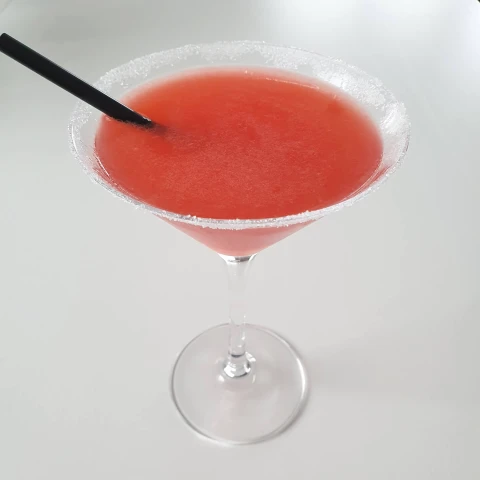 Watermelon Margarita
The Watermelon Margarita, a variation on the 'regular' Margarita. In fact, we have added watermelon liqueur to this cocktail! This may make it a bit stronger, but it makes the generally quite strong taste of tequila more in the background.
Share Watermelon Margarita on social media
Preparation
Step 1 of 5

Grab a margarita glass.

Step 2 of 5

Put the salt on a plate. To give the glass a salt rim, wet the rim with lime juice and then dip the glass in the salt on the plate.

Step 3 of 5

Next, grab a cocktail shaker and put ice cubes in it.

Step 4 of 5

Add the tequila, watermelon liqueur and lime juice. Shake well!

Step 5 of 5

Take the margarita glass and pour the cocktail through the strainer into the glass.
Related cocktails by taste
Related cocktails by color