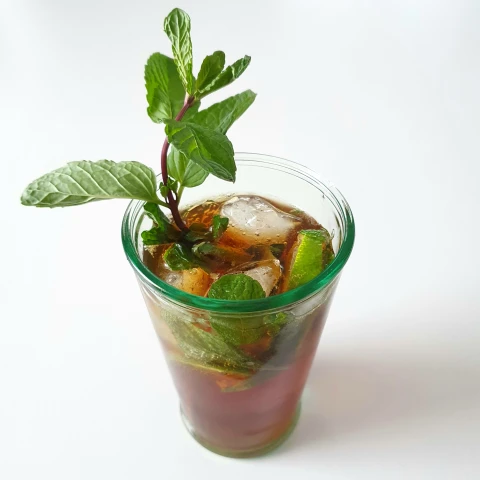 Black Mojito
Yet another Mojito variation, the Black variant this time! And that is, of course, because it is predominantly black/dark in colour. That's because we make it with Jägermeister, a deliciously herbal liqueur. If you love that then this is definitely the drink for you to try!
Share Black Mojito on social media
Preparation
Step 1 of 6

Take a Mojito glass and put the lime wedges in it.

Step 2 of 6

Then spoon in the sugar and also add the mint leaves from 1 sprig.

Step 3 of 6

Muddle the lime so that the juice mixes with the sugar and mint. Don't have a muddler? You can also use the back of a spoon.

Step 4 of 6

Vul het glas met crushed ice.

Step 5 of 6

Pour in the Jägermeister and stir.

Step 6 of 6

Top the glass with Sprite and garnish with a sprig of mint.
Related cocktails by taste
Related cocktails by color