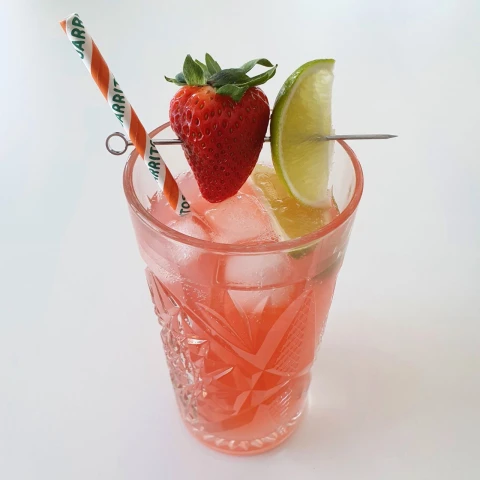 Strawberry Lime Soda
The name of this cocktail perfectly sums up what it is: a Strawberry Lime Soda. It has a fruity flavour and is slightly fizzy. We make it partly with Jarritos Lime and directly in the glass.
Share Strawberry Lime Soda on social media
Preparation
Step 1 of 4

Take a slightly larger (long drink) glass and add some ice cubes.

Step 2 of 4

Add the lime juice, strawberry juice and lime wedge. Stir once.

Step 3 of 4

Schenk de Jarritos Lime en Jarritos Mineragua erbij.

Step 4 of 4

Stir once and garnish with a wedge of lime and a strawberry.
Related cocktails by taste
Related cocktails by color
Cocktails in same category