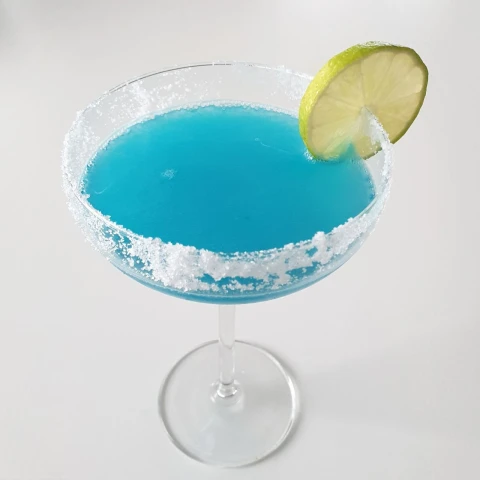 Frozen Blue Margarita
A delicious frozen margarita but blue! The margarita is a Mexican cocktail made with tequila, triple sec and lime juice. This cocktail is slightly different because we don't use the triple sec but Blue Curaçao.
Share Frozen Blue Margarita on social media
Preparation
Step 1 of 5

Put some salt on a saucer.

Step 2 of 5

Cut 2 segments from one half of a lime. Using 1 lime wedge, wet the rim of a margarita glass and dip the glass in the salt.

Step 3 of 5

We use a blender for this cocktail. Squeeze one and a half limes into this. Also add the tequila, Blue Curacao and ice cubes.

Step 4 of 5

Blend for at least 1 minute until the cocktail is truly a slush.

Step 5 of 5

Pour the cocktail into the margarita glass. Garnish with a slice of lime.
Related cocktails by taste
Related cocktails by color