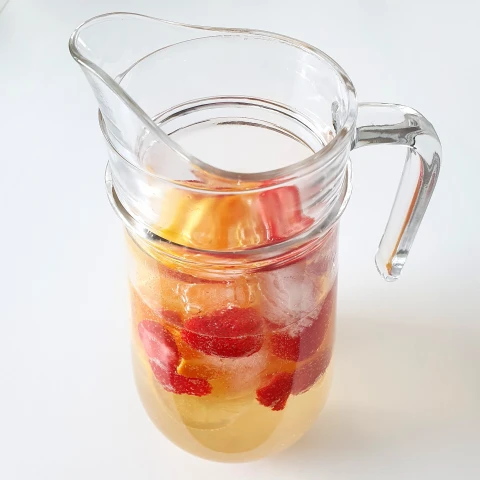 Sangria de Espumante
Most will immediately think of Spain when they think of a sangria, but why not Portugal? Portugal also produces many (sparkling) wines that are perfect for making a sangria! In this recipe, we make it with an Espumante which is a Portuguese version of a sparkling wine. But of course you can make it with any other sparkling wine. You can vary the types of fruit you use, but we like it with strawberries, orange, lemon and peach! Note: the ingredients below are good for filling 1 carafe!
Share Sangria de Espumante on social media
Preparation
Step 1 of 4

Slice the orange, lemon, strawberries and peach.

Step 2 of 4

Take a carafe and add all the fruit. Add ice cubes as well.

Step 3 of 4

Then pour in the Espumante and the Sprite.

Step 4 of 4

Stir once and enjoy!
Related cocktails by taste
Related cocktails by color
Cocktails in same category