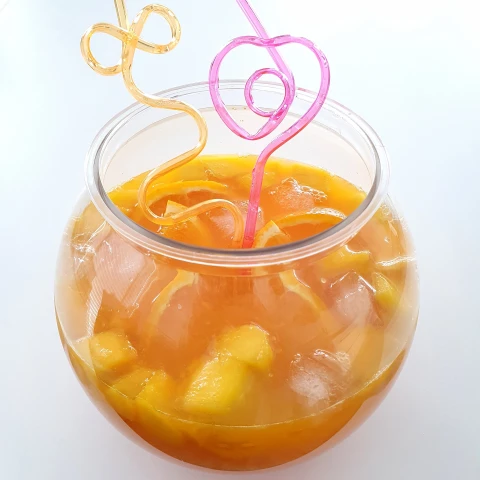 Orange Punch
This recipe is a variation of the Prosecco Punch that is also on our site! With a few small adjustments you can have a completely different punch on the table! The quantities below are based on making a punch for several people. Ideal to make when you get visitors!
Share Orange Punch on social media
Preparation
Step 1 of 6

Take a fishbowl (or other large bowl) and put some ice cubes in it.

Step 2 of 6

Cut the orange into slices and put in the bowl.

Step 3 of 6

Also add the frozen mango pieces.

Step 4 of 6

Pour in the (chilled) prosecco, Grand Marnier and tangerine juice.

Step 5 of 6

Finally, add the mint.

Step 6 of 6

Stir briefly and then drink from a long drink glass!
Related cocktails by taste
Related cocktails by color
Cocktails in same category