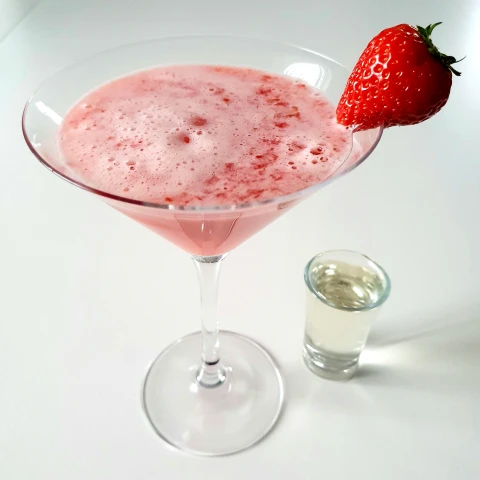 Santa Claus Martini
We drink this beautiful red-coloured cocktail from 2 glasses! In fact, we make a cocktail and we drink the prosecco from a separate glass next to it, extra special and festive!
Share Santa Claus Martini on social media
Preparation
Step 1 of 7

Grab (per cocktail) 5 strawberries and blend.

Step 2 of 7

Take a cocktail shaker and put the strawberry mixture in it. Add some ice cubes as well.

Step 3 of 7

Pour in the vanilla vodka, lime juice and a small splash of sugar syrup. Also add the whites of half an egg (per person).

Step 4 of 7

Shake the cocktail until it has become a nice whole.

Step 5 of 7

Take a martini glass and pour the cocktail through a strainer into the glass. Garnish with a strawberry.

Step 6 of 7

Next, take a small glass, such as a shot glass, and pour the prosecco into this.

Step 7 of 7

Serve the glasses together and enjoy!
Related cocktails by taste
Related cocktails by color
Cocktails in same category