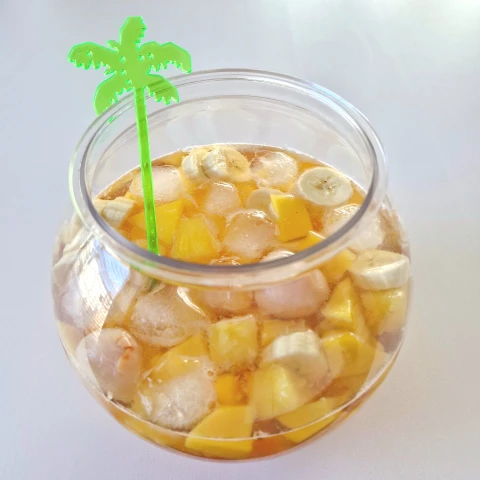 Summer punch
We make this summer punch with nice fresh fruit (okay, except for the lychees).... We make a nice lot so it's ideal to share with your friends on a sunny day! We make it with cava, Safari, mango, lychees, banana and pineapple. The recipe below is based on making 1 carafe!
Share Summer punch on social media
Preparation
Step 1 of 5

Peel the pineapple and cut the flesh into pieces. It's best if you don't use the hard core.

Step 2 of 5

Also cut up the peeled banana and mango. You can also use frozen mango and/or pineapple if you find that easier!

Step 3 of 5

Take a large jug (or bowl) and put the pineapple, banana, mango and lychees (with a little of the liquid) in here.

Step 4 of 5

Pour in the cava and Safari.

Step 5 of 5

Add ice cubes, stir once and serve immediately!
Related cocktails by taste
Related cocktails by color
Cocktails in same category