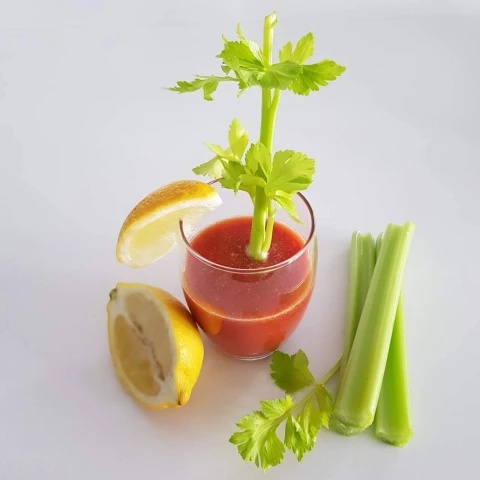 Virgin Bloody Mary
A refreshing cocktail, with a slightly spicy aftertaste. Like the original Bloody Mary, you make the Virgin Bloody Mary with tomato juice, Worcestershire sauce, Tabasco and, last but not least, a stalk of celery. Not only does it look nice, but it is also handy to mix all the ingredients well. The perfect cocktail for a "dry" and healthy start to the new year!
Share Virgin Bloody Mary on social media
Ingredients
Worcestershire saus

3

tsp
Preparation
Step 1 of 4

Cut 1 part of the lemon and squeeze the rest over a bowl.

Step 2 of 4

In a cocktail shaker, put 1 tablespoon of the lemon juice, tomato juice, Worcestershire sauce and ice cubes.

Step 3 of 4

Season with the tabasco, pepper and salt, if necessary.

Step 4 of 4

Shake well and pour into a tumbler or long drink glass. Garnish with a stalk of celery and the lemon wedge.
Related cocktails by taste
Related cocktails by color
Cocktails in same category