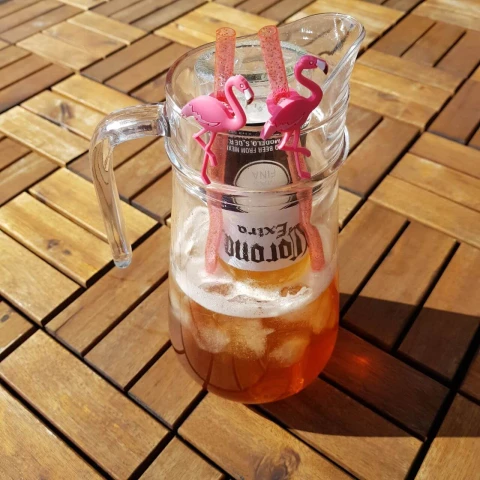 Corona Cocktail
Enjoy the summer to the fullest or imagine yourself in the sunny south? Then make this delicious Corona cocktail. Not only does the Corona cocktail taste delicious, it is also very easy to make and looks very summery. How often do you see a cocktail with a whole bottle of beer in it upside down? By lifting the Corona bottle slightly, it empties little by little into the jug.
Share Corona Cocktail on social media
Preparation
Step 1 of 5

Fill a serving jug of at least 1 litre with plenty of ice cubes.

Step 2 of 5

Add the grenadine and Cointreau. Squeeze the lime and orange into the jug.

Step 3 of 5

Add a whole Corona to the jug.

Step 4 of 5

Carefully place the other Corona upside down in the serving jug.

Step 5 of 5

Drink it straight from the jug with straws or serve in a tumbler.
Related cocktails by taste
Related cocktails by color