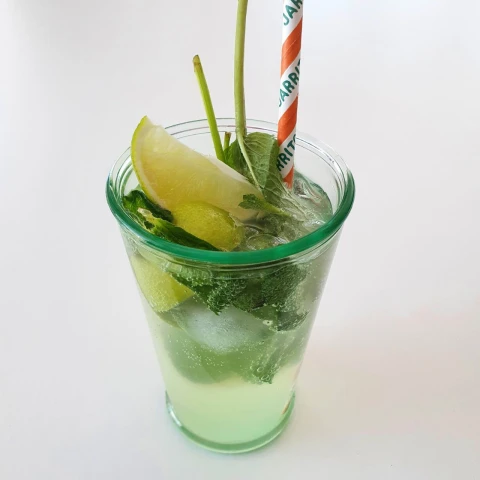 Jarritos Nojito
We all know the Mojito and probably the Nojito too (the non-alcoholic variety). But another variation on that is the Jarritos Nojito! A nice fresh mocktail that you prepare directly in the glass. If you want it extra cold, add some extra ice cubes at the end.
Share Jarritos Nojito on social media
Preparation
Step 1 of 6

Grab a mojito glass, pluck the leaves from 1 sprig of mint, fold them between your hands and put into the glass.

Step 2 of 6

Add the cane sugar.

Step 3 of 6

Squeeze 2 wedges of lime into the glass and keep aside.

Step 4 of 6

Stir the contents of the glass. Then add the squeezed lime wedges.

Step 5 of 6

Pour in the Jarritos Mineragua and Jarritos Lime and add some ice cubes.

Step 6 of 6

Stir once and garnish with a wedge of lime and a sprig of mint.
Related cocktails by taste
Related cocktails by color
Cocktails in same category