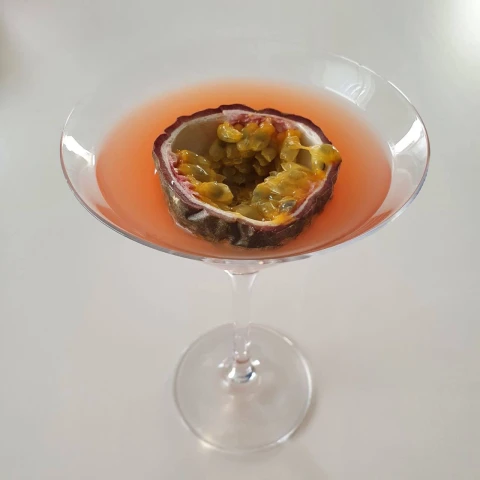 Pornstar Martini
A sexy cocktail with an exciting flavour! The name of this cocktail alone will attract attention. How to 'finish' this cocktail? First you eat the passion fruit that is in the cocktail, then you drink the glass of prosecco that is served next to it and finally you drink the cocktail itself!
Share Pornstar Martini on social media
Ingredients
Passion fruit juice

50

ml
Preparation
Step 1 of 4

Take a martini glass and cool it by putting ice cubes in it.

Step 2 of 4

Put some ice cubes in a cocktail shaker. Squeeze the lime in the shaker. Then add the vodka, Passoa, passion fruit juice and the white of half an egg. Shake for at least 15 seconds.

Step 3 of 4

Take the martini glass, remove the ice cubes and pour your cocktail through a strainer into the glass.

Step 4 of 4

Cut the passion fruit in half and place one half in each glass. Pour the prosecco into a small glass and serve separately.
Related cocktails by taste
Related cocktails by color
Cocktails in same category