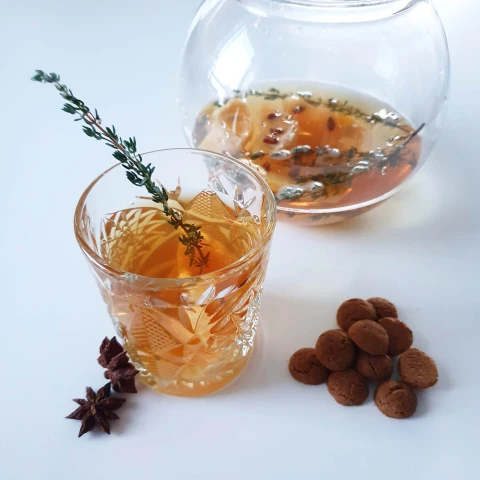 Speculoos Punch
A punch is often made in a large bowl and therefore drunk by several people. Would you also like to put this delicious punch on the table for the holidays? Then count 10 people! Then you can be sure to have enough. The steps in this recipe are based on preparing a punch for several people. Want to make it for two? Then set the counter to 2 people and make the drinks in a long drink glass.
Share Speculoos Punch on social media
Preparation
Step 1 of 6

Grab a fishbowl or bowl and pour the gin and speculoos liqueur into this.

Step 2 of 6

Add the sprigs of thyme, the star anise and the orange segments.

Step 3 of 6

Stir together and leave to stand for about half an hour.

Step 4 of 6

Meanwhile, brew the speculoos tea. It may be a little on the strong side.

Step 5 of 6

Then pour in the tea. Finally, add the apple cider.

Step 6 of 6

Stir gently one more time and the punch is ready to pour!
Related cocktails by taste
Related cocktails by color
Cocktails in same category