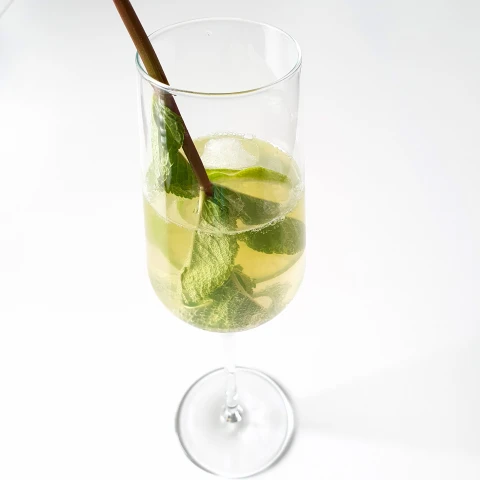 Elderflower Bubble
Really bring out the flavour of the lime and mint leaves and make this cocktail for several people. Make it in a large pitcher or bowl and enjoy it together!
Share Elderflower Bubble on social media
Ingredients
Angostura bitters

2.5

drop

Elderflower liqueur

37.5

ml
Preparation
Step 1 of 7

Grab a large jug or bowl and put ice cubes in it.

Step 2 of 7

Squeeze the juice of 1 lime with the ice cubes. If not using fresh lime, count on 30 ml.

Step 3 of 7

Cut the other 2 limes into thin slices and add.

Step 4 of 7

Carefully, pour in the prosecco and also the elderflower liqueur and ginger ale.

Step 5 of 7

Add the mint leaves and pour in a few drops of angosutra bitters.

Step 6 of 7

Stir through with a bar spoon.

Step 7 of 7

Pour into low glasses and make sure to add lime and mint in your glass as well. Enjoy!
Related cocktails by taste
Related cocktails by color
Cocktails in same category