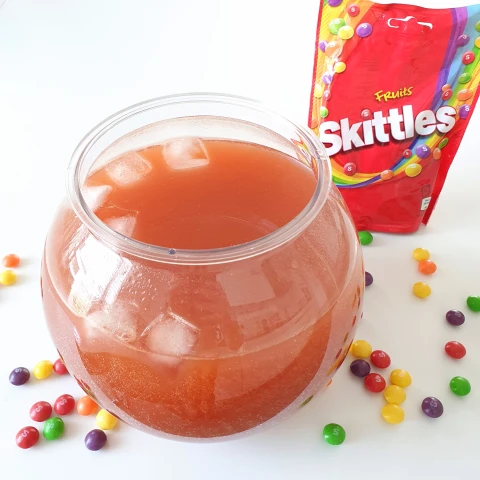 Skittle Rocket Fishbowl
A true classic that you drink with your friends during a sunny beach holiday. The Skittle Rocket Fishbowl is derived from the Skittle Vodka cocktail, in which you sort Skittles by colour, divide them between bottles of vodka and soak them for a few hours and then shot. The Skittle Rocket Fishbowl is less strong, but just as tasty!
Share Skittle Rocket Fishbowl on social media
Preparation
Step 1 of 4

Take a fishbowl and put the Skittles in it.

Step 2 of 4

Then add some ice cubes.

Step 3 of 4

Pour in the 3 varieties of Rocketshot and finally the orangeade.

Step 4 of 4

Stir once and enjoy!
Related cocktails by taste
Related cocktails by color
Cocktails in same category